TENs Machine Hire-$69 for 6 weeks hire. Available from 37 weeks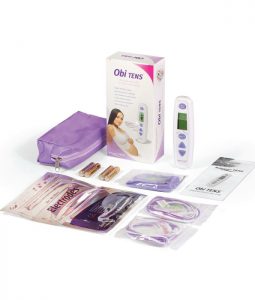 To hire your TENS please complete the contact form on the Home page with your expression of interest.
What is a TENs Machine?
TENS stands for Transcutaneous Electrical Nerve Stimulation. A TENs machine is a non-pharmacological form of pain relief often used by women in labour.
A maternity TENS machine consists of a battery-powered, hand-held controller connected by fine leads to four flat pads. The pads are covered in a firm gel that helps them stick to your back.
The machine sends small, safe pulses of electrical current via the leads to the pads on your skin. This helps you to release endorphins- natures natural pain reliever and offers a welcome distraction to your surges/contractions. You will feel a gentle tingling or buzzing sensation, which may be stronger or weaker, depending on the setting level.
The Obi TENS is a simple yet versatile TENS machine. It is pre set and ready to go, nothing to do except decide on how strong you need the pulses to be. The integrated boost button means you only need one device when that surge/contraction comes.
Delivery Options:
Pick up and drop off from my home address (FREE).
Postage to your door. Includes a pre-paid, pre-addressed return satchel ($10)
TENS Machine Hire Terms
Your labour TENS machine will come with everything you need to use it including a set of new electrode pads, lead wires, two sets of fresh batteries and a neck cord.
Instructions for using your labour TENS machine will be provided with your hire.
You must not use a labour TENS machine before 37 weeks of pregnancy, over the abdomen or on the head, near water or in the vicinity of children. You must not use a TENS machine if you have a pacemaker, heart disease or epilepsy.
Please check with your medical care provider to ensure that using a labour TENS machine is right for you. You should only use your labour TENS machine under advice and guidance from your care provider.
Our liability shall never exceed the hire fee paid by you.
It is your responsibility to ensure that the hire product is returned with all accessories provided (except used pads).
If your hire product is returned damaged by accident or misuse, you will be liable for the repair or replacement costs of $148. If the hire product is lost or stolen, you will need to reimburse us for the full cost of the unit and accessories.
TENS machines must be returned within 14 days post birth. Late returns will incur a fee of $20 per week.
Machines/Cords & Probes MUST be cleaned using antibacterial wipes after use.
I recommend that you familiarise yourself with the TENS machine a few times before you go into labour so to avoid disappointment if you can not function the machine properly during labour.