Hypnobirthing Australia™️ Supportive Caregivers Training Session- $175 (early bird)
Saturday 7th August 2021, 09.30am-3.30pm via Zoom.
This special one day intensive training session is specifically designed to equip caregivers with an understanding of the hypnobirthing philosophy.
Caregivers will learn about the Hypnobirthing Australia™️ language, and tools that can be utilised in their very important role of supporting birthing mothers and families.
You will receive: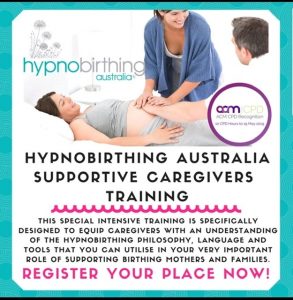 Certified Hypnobirthing Australia™️ course material delivered to your door
A download voucher for a Hypnobirthing Australia™️ track of choice
Certificate of attendance and 10 ACM accredited CPD Points
To register your interest please fill out the contact form on the home page.