About Me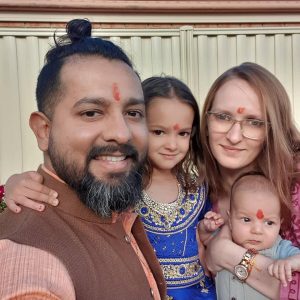 First and foremost I am a mother to my two children. I have experienced two very powerful and positive hypnobirths. My daughter back in 2017 and most recently my son in 2020 during the harshest COVID lockdown. The Hypnobirthing Australia™ tools were invaluable during that unprecedented time and they allowed me to have a positive pregnancy, birth and postpartum period.
I am also a passionate midwife with 12 years clinical experience and an award winning Hypnobirthing  Australia™ Practitioner based in Narre Warren, Melbourne. I trained and practiced in the UK and moved to Australia to advance my midwifery career. I have worked in the public and private sector in Australia and have worked across all clinical areas of the midwifery spectrum. I have also been involved with home births and water births back in the UK.
My why?……
As a midwife working in a busy tertiary hospital I understand that it is not always possible to have the time needed to fully educate mothers and their family. I am a firm believer that knowledge is power and that every woman has the right to a positive and empowering birth experience. This comes down to mother's knowing and understanding that they have options and choices for birth and being equipped with the Hypnobirthing tools for a calm birth. By being a Hypnobirthing Australia™ Practitioner I am able to educate, empower and guide mothers during their pregnancy and birth journey.
If you are wishing to work towards a positive birth experience and would like to know how Hypnobirthing Australia's™ program can help you achieve this then please get in touch by either filling out the contact form on the homepage or calling me on 0412353495.
I look forward to sharing this positive and inspiring way of birthing with you.
Jemma Vyas
Director South East Hypnobirthing
Hypnobirthing Australia ™ Practitioner
Midwife
Hypnobirthing Mother
Servicing Narre Warren, Melbourne and surrounding suburbs.